Dreaming of a White Christmas? London can be enjoyed as much on a cold winter's day as at the height of summer … and a warm British welcome awaits visitors as an inducement.
By Mel Fernandez
LONDON, England – Are you one of those people who would ever put wintering abroad during the Christmas season high on your holiday bucket list?
The thought of the cold would put most of us off this idea. I had my misgivings too but decided to take a wintry break in London because, as one travel writer Julie Falconer succinctly put it: "over-tourism is becoming an increasing problem around the world; visiting in the winter months is a good sustainable travel practice."
London turned out to be a magical winter wonderland during my first ever trip to the UK. I discovered that my dream destination can be enjoyed as much on a cold winter's day as at the height of summer. And leading up to Christmas, the capital looks very festive and welcoming with the dazzling signs and decorations.
It is also a tourist bargain in winter, for you can get a substantial rebate on everything from air-tickets to tours and accommodation.
The best part of it all is that you miss the summer congestion, when there is a great strain on the transport system, excursions and other tourist facilities.
You will, of course, come up against the infamous 'gloomy' English weather: intermittent rainfall, fog, temperatures dipping below freezing and the snow. But in your winter woollies you'll find the weather quite tolerable (buy all your winter gear when you arrive in London as the Christmas sales will be in full swing).
In fact, I found that the thrill of the cold was very exhilarating, as it motivates you to organise plenty of activities that make your days merrier.
This trip can be a mind-boggling experience if you come from the tropics, as you can only imagine what snowflakes, snowmen, red-breasted robins chirping on windowsills, real Christmas trees and merry-making the traditional way can be like.
DAY 1:
Day One of your visit should be reserved for a familiarisation tour of the city of London. The tour I was on cost very little, but it covered all the not-to-be-missed spots like Hyde Park, Westminster Abbey, Big Ben, St Paul's Cathedral, the Tower of London and a cruise round the West End, Oxford Street, Marble Arch, Trafalgar Square and Piccadilly Circus.
After this whirlwind tour, why not wind down at a traditional London pub and try the classic Ploughman's Lunch – bread, cold meats, cheese, onions and pickles. It is best washed down with a local beer.
Some pubs also offer delicacies like Scotch Eggs, Pork Pies, Cornish Pastries, Bread and Butter Pudding, Sticky Toffee Pudding, Sherry Trifle, Spotted Dick and Eton Mess.
For dinner there are other foods to enjoy in London. The great British old-fashioned fish and chips is that one thing that tourists want to try, at least once, when they come to London. At the 'Poppies' in Soho or Camden, the aroma of the salt and vinegar and the crunch of the batter on the fish and the 'not so crispy' chips are irresistible.
As jetlag begins to creep in, settle down in front of the telly and enjoy an evening of lively fare into the wee hours of the night.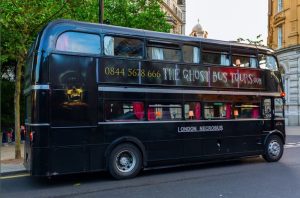 DAY 2:
On Day Two you are ready to whizz around London on the Tube (Underground). Once you are familiar with getting around, visit some of London's great department stores: Fortnum & Mason, Harvey Nichols, Marks & Spencer, Selfridges, Debenhams, the High & Mighty and Harrods. They are all conveniently located around Oxford Street, Bond Street and Regent Street. And remember that the winter sales will be on.
After the hectic shopping treat yourself to an iconic London experience – the traditional afternoon tea – which is typically served between 2 pm and 4 pm.
To accompany your Earl Grey, champagne or decadent cocktails, savour classic cucumber sandwiches, scones with clotted cream and homemade jams, macarons, pastries, chocolate cake and fruit tarts.
There's no shortage of places in London that offer afternoon tea, including many hotels like the luxury experience at The Ritz in Piccadilly Street and high-end department stores like Harrod's, Fortnum & Mason and Harvey Nichols.
Remember to get tickets for some evening entertainment. Christmas is theatre time and there are a wealth of attractions at the West End. Productions that are currently running are Les Misérables, Mary Poppins, The Lion King, Hamilton, Moulin Rouge, Phantom of the Opera and more.
DAY 3:
On Day Three you could take an out-of-town tour – visit Windsor Castle, Shakespeare's Stratford-upon-Avon, Coventry Cathedral or Stonehenge.
If you prefer to stay in London, go on a themed tour, like the Jack the Ripper Walking Tour, the Ghost Bus Tours, or the Sherlock Holmes Tour, to name a few. For movie fans the entertaining Harry Potter locations walking tour is highly recommended. The duration is 2 hours.
A happy ending to the day would be a grand Elizabethan banquet at the Beefeater in London. You will be entertained in traditional style with minstrels and ballad singers, all in full Elizabethan regalia.
Day 4:
Arise on Day Four to partake of a full English breakfast – one of the most recognised traditional British dishes. It comprises cereal, porridge, or fruit juice, followed by grilled back bacon, sausages, baked beans, tomatoes, mushrooms, black pudding, and fried eggs, even hash browns if you fancy, followed in turn by toast, butter and fresh Oxford marmalade.
The fry up at The River Café, Putney Bridge, is classic. Or for a posh version try The Wolsely in Picadilly.
Today you can start off bright and early for Southall to visit little India. You'll be amazed to see a thriving Indian community complete with social and recreational facilities so far from the old country.
For lunch try Chicken Tikka Masala with a side of pilau rice. This creamy, aromatic curry is one of London's most popular dishes.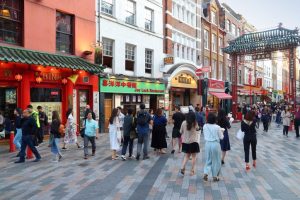 Then return to base and compare notes with Chinatown in the Soho district of London. You may want to try the delicious Hong-Kong-Style Chinese food at the Loon Fung Restaurant in Gerald Street.
London offers the tourist the chance to taste almost every imaginable cuisine.
Day 5:
Take in a bit of culture on Day Five. Visit the London Museum or the dozens of art galleries, exhibitions, children's pantomimes, jazz, folk, or rock music concerts, or drop in at the London Zoo.
If Day Five happens to be Christmas Eve, go to Piccadilly Circus, Leicester Square or Trafalgar Square where informal Carol concerts are held and a giant 20-metres tall Christmas tree is erected.
Later in the evening you can experience a moving Christmas Eve mass at one of London's many cathedrals and churches.
On Christmas Day you shouldn't miss a traditional lunch at a nearby restaurant, complete with roast turkey, plum pudding, mince pies and red wine.
Day 6:
If Day Six falls on a Sunday, visit the world-famous Petticoat Lane in Liverpool Street – the local Flea Market. There are over 1,200 stalls there that sell clothing, leather goods bric-a-brac and street food.
The Sunday UpMarket in the Old Truman Brewery features vintage stalls and great artisan food stalls. And another East London institution is the Brick Lane Market.
For lunch try out another British meal – the traditional Sunday Roast. Some of the best roasts are to be had in pubs rather than restaurants.
This meal comprises roasted meat – beef, chicken or lamb accompanied by roast potatoes, Yorkshire Pudding, and vegetables, drowned in rich gravy. The vegetables might include broccoli, Brussels sprouts, cabbage, carrots, cauliflower, parsnips, or peas. You will also be offered condiments such as apple sauce, mint sauce, or redcurrant jelly.
Day 7:
If you still have time on your hands, then take a three-day trip to Scotland by train to enjoy the winter sports. It usually snows by this time and you'll cherish the memory of snowflakes falling around you and then waking up the next day to find everything snowed over.
Merry Christmas.
Mel Fernandez travelled to London from Singapore courtesy of Singapore Airlines