Exploring the Unique Flavours of Egyptian Cooking
By Ricky Matthew
AUCKLAND – Egyptian cuisine is a treasure trove of ancient flavours and traditional recipes that have tantalised taste buds for centuries.
Rooted in a rich culinary heritage that dates back to the time of the pharaohs, Egyptian food showcases the diverse influences of Mediterranean, Middle Eastern, and African cuisines.
Recently, a cooking class was held at the Ellen Melville Centre in Auckland, in conjunction with Africa Month. The class aimed to introduce locals to the captivating world of Egyptian culinary delights and provide them with a hands-on experience of preparing and savouring these traditional dishes.
Travel Galore had the opportunity to interview several participants of the cooking class, comprising both individuals who were experiencing the wonders of Egyptian cuisine for the first time and those who were reconnecting with their cultural heritage.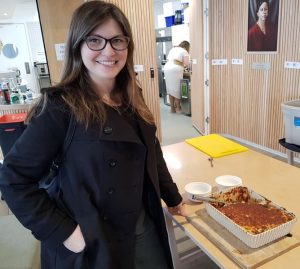 Annika, a local participant, expressed her excitement about tasting Egyptian food for the first time. "It was interesting to see the spice blend. While you might cook with those spices in other cuisines, it's the ratios, it's the way in which it's added and fermented, what point during the cooking process, how things are blended."
Annika discovered new flavours and ingredients such as 'date syrup', 'Damascus rose', as well as 'fava beans'. "These are all new flavours to me, so this opens up a lot of new recipes," she said. "Its nice to learn different aspects of these recipes and see how it's done first-hand."
There were not only locals at the cooking class but Egyptian immigrants who hoped to reconnect with their culture and see their cuisine presented to the local community. Two Egyptian participants who moved here nine years ago, Sherwen and Habeeba, joined the cooking class to see Egyptian food introduced to the wider community.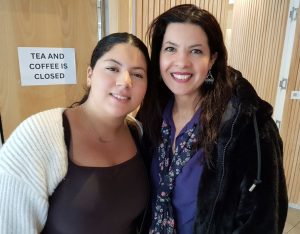 Sherwen highlighted that Egyptian cuisine is not as well-known compared to Lebanese or Turkish cuisines in the area. "There is nothing like it in New Zealand for Egyptian cuisine, so this event makes us proud.
"We came to the class to come and share this food. It is the first time we have seen a demo for Egyptian food. The cuisine is not quite known to people. So, we wanted to take part so people can actually see what our food looks like.
"There aren't any Egyptian restaurants in Auckland. There used to be one down the road but that shut down. There are still Lebanese restaurants that sell falafel and shawarma and all that kind of thing. Lebanese and Turkish restaurants but not Egyptian, despite the population growing. There are many Egyptians in New Zealand, especially in the North Shore."
The pair said that another reason for attending was to be reminded of home, since they have been away for nine years. "This is like back home. It's very traditional food and it's really good. Egyptian food is very unique, but that's what makes it good and stand out."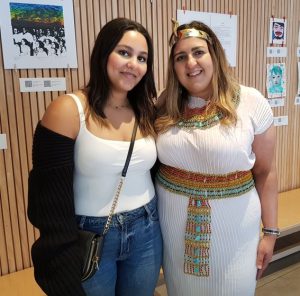 Malak and her mum Ghada, who are both originally from Egypt and have full Egyptian heritage, have been living in New Zealand for the past 19 years. Malak said they moved here because "my dad got a work opportunity."
Their journey started in the far North of Egypt, near the North Sea. From there they "moved between Palmerston North, Auckland, and Hamilton, but eventually settled in Auckland."
Malak described that her desire to learn to cook Egyptian food derives from the traditional family roles in Egyptian households. "In the unlikely scenario of me marrying an Egyptian, there would be an expectation from the family that I know how to cook traditional Egyptian food.
"Historically and culturally, it has been considered an attribute of a good wife to be skilled in preparing home-cooked meals. However, with the progressiveness of society, the expectation has shifted, and it's no longer solely the wife's responsibility to cook, clean, and take care of the children. Middle Eastern men, especially Middle Easterners, tend to be more in the background when it comes to cooking.
"However, I grew up witnessing a different dynamic between my parents. They would often cook together, and it was never expected that my mom would slave away in the kitchen alone. My dad would help out with tasks like doing the dishes and assisting with the cooking. So, even if I were to marry an Egyptian, I would like to believe that I'm already a good cook because I learned a lot from my mom.
"I believe that the appreciation and value for cooking skills extends beyond traditional expectations. Your worth in the marketplace is based on the quality of your cooking and the scores you receive. It goes beyond mere gender roles."
Another Egyptian-born attendee reiterated the nostalgia of recreating traditional dishes and celebrating culture with food. "We can recreate the dishes here to an extent. It will not be the same as at home, but it does bring back some memories."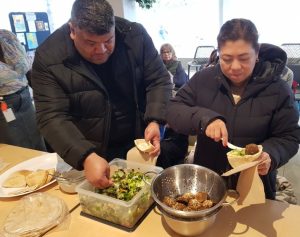 She further mentioned the importance of having a community to allow you to stay connected to your roots. "We've got a big Egyptian community and I've got a lot of Egyptian friends, a lot of mixed Arab friends, whether they're from Iraq or Sudan. We all hang out at uni, and it's a real sense of togetherness and during Ramadan we breakfast together and things like that. Even if they're Christian or Muslim, we all come together."
The sentiment of longing for home and the profound connection to Egypt is palpable in the words of the young lady we interviewed: "At the end of the day, nothing beats home and walking through the street. Even the smell of Egypt has a particular smell. We just went to Egypt recently in December. We go regularly, like almost every year. Mum's about to go in a couple of weeks. You've got to love home, like there's nothing like it."