(above – photo credit: Magic Cottages)
By Dr Lilia Sevillano
There is a little slice of paradise tucked away about 20 minutes outside of Kerikeri town that is the designated favorite holiday place of my family.
This boutique resort, Magic Cottages at Takou River, sits on 150 acres of organic pasture with 5 acres of sub-tropical gardens surrounding the cottages. I discovered the place years ago when I was searching online for a place to travel to locally for a quick R&R with hubby as we didn't want to leave the country or go out of town.
Since then we've been there 2 more times: when the whole family was visiting from the Philippines and with my nieces shortly after my mother's passing. And the best thing about it is that it's only a 3-hour drive north of Auckland.
Voted one of the Top Ten Luxury Lodges in New Zealand, Magic Cottages has 6 different types of self-catering accommodations to suit the number of people in your party.
On our first trip we rented the Summer Cottage, which can accommodate up to 4 people. When we visited again with the family we rented the Lodge, which can accommodate up to 8 people. The largest accommodation is the House, which has 7 bedrooms and can sleep 10-12 guests; it also has a swimming pool.
If you're inclined towards glamping, a lovely luxury camping area is available as well. However, this site requires no tent or equipment – everything is already provided under a beautiful white canvas safari-style tent set on a permanent timber floor. Upon arrival you simply gaze across Takou River or up at the stars from the tent's deck.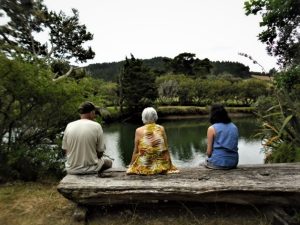 We found that there was no need to even leave the site once there as there is so much to do there. There's the serene Takou River with its small wooden dock where you can fish (fishing rods are provided) or dive into the cool waters. On our first trip hubby caught a fish (I can't recall what it is now), but pretty much butchered it when trying to fillet it as we could only find a blunt knife. So back into the water it went.
Near the dock is a shed where you can choose from a variety of kayaks and drag one down a few feet to the river bank and away you go. You can paddle upstream to secluded swimming and picnic spots, or downstream to beautiful deserted beaches.
If you wish to explore the grounds, then you can wander leisurely through the lush gardens while enjoying the sounds of native birdlife. If you want to throw some decadence into your stay you can book a massage or relax in your own private alfresco foot bath (for the Summer Cottage) or at the riverside Hot Tub.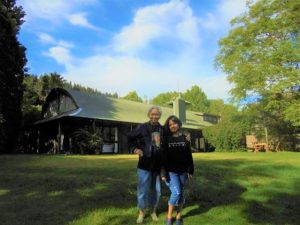 You are also very welcome to explore the organic farm along marked walks that follow the river. We pretty much did all this, except for the massage and hot tub. It's the first thing on my list for our next trip there.
Indeed, each time we drove through the gates of Magic Cottages it was like entering another world. I have always considered the name 'Magic' to be very appropriate for the place; it's so idyllic as well. It is a magical place where you can relax, rejuvenate and enjoy the peace and quiet. I always walk down to the river and as I sit by the bench beside it I can feel all my stress and fatigue immediately flow away.
Try it out for yourself; it may just be your next favorite holiday place. Despite there being a few accommodations on site, the place is big enough to have all the privacy and quiet that you want. An added bonus is that it's an eco-friendly place. Here is the link if you want to go somewhere near but secluded: https://www.takouriver.com/
Photos : Dr Lilia Sevillano