Everything goes in Goa.
By Mel Fernandez, Travel Editor
PANJIM, Goa – Brazilian-type fiestas with dancing and revelry that carry on till early dawn and three-hour Mexican siesta breaks when some business activities come to a complete standstill. Then there's the lingering influence of the hedonistic hippie lifestyle of the 70s juxtaposed with the deep Catholic traditions that many locals still cherish.
The old and the new literally collide with each other in Goa – the smallest state in India and surprisingly the biggest tourist destination in the country. The greatness of Goa lies perhaps in its smallness. It has an area of 3,700 sq. kms with a modest population of 600,000. Tourism to the country is still in its infancy and the amenities therefore are not plentiful.
The main attraction of this tourism jewel is of course her renowned white sand and Acapulco-type waters, miraculously unspoiled, where tourists can commune with nature. Thankfully, Goa's coastline extends for about 131 kms.
Then there are the rows of Portuguese style churches and buildings, painstakingly white washed but still looking terribly congruous.
And not to forget the Goans – a people with a distinctive culture, religion and cuisine that is different from the rest of India. The Portuguese occupied Goa for about 500 years until the Indian Armed Forces finally expelled them in 1961. A visitor will be surprised to find how strong the Portuguese influence is on every aspect of life in the country today, making Goa unlike anywhere else in India.
This enclave on India's west coast lies about 480 kilometres south of Bombay and is connected by daily Indian Airlines flights. You can also travel to Panaji, the capital of Goa, by road, rail or by sea from Bombay.
Panaji, once a fishing village, is one of the most beautiful cities of India. The avenues of the city are wide and clean and lined with trees. The rambling colonial style white washed houses, red-roofed buildings and street-side taverns, are patterned along Spanish and Portuguese architectural styles.
If Panaji is going to be the base for your holiday in Goa you will find a couple of good hotels there with rates which are reasonable, when compared to those in other Asian cities. The Fontainhas Latin Quarter is an atmospheric neighbourhood where you can stay in a restored Portuguese mansion.
There is a wide range of accommodation to suit every taste and temperament everywhere. The beach huts and luxury private villas in North Goa cater to the more switched on holidaymakers. The Candolim-Calangute-Baga stretch of beaches is especially commercialized and gets super crowded during peak season.
South Goa, where the pace is slower, is where you find most of the luxury hotels. Palolem is the most happening beach here while Agonda is ideal for chilling out and doing nothing. Patnem offers a bit of both.
Tours covering all the places of interest in Goa are conducted by the Tourist office in Panaji. But if you are prepared to move around the country by yourself, you will find that your holiday in Goa is far more rewarding. After all, the Goans are a very friendly and hospitable people.
From Panaji you can take a ferry boat across the river Mandolv to explore the wide open country to the north. Here you will find miles and miles of beaches fringed with palm trees and endless verdant mango and jackfruit trees interspersed with vast padi fields, slumbering villages, green wooded hills, churches, temples, shrine forts, ruins and ancient caves.
Velha Goa, or old Goa, now silent and weed grown, recalls the pomp of Portuguese civilisation in India. Nine km east of Panaji, it is famous for the Basilica of Bom Jesus, built in 1510 by the Jesuits.
Enshrined in a silver casket in one of its chapels in the body of Saint Francis Xavier, venerated as their patron saint. Not far off is the impressive Se Cathedral with its magnificent altars and St. Cajetan church, famed for its catacombs.
At one time Calangute beach was a favourite rendezvous for the hippies, however their unconventional mode of dress and behaviour raised many eyebrows and there was strong public reaction against their presence.
Colva beach, about 5km from Margo, the second largest town in Goa, rivals Calangute beach in popularity.
To really get to know Goa, you have to get to know the Goans. There are ample opportunities to meet the locals as the Goans seem to thrive on festivity.
Once every year each little community church and chapel honours its patron saint with a church service followed by a fiesta. There is much singing, dancing, eating and drinking at fiestas and the party carries on till the early hours.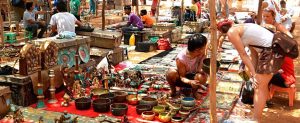 Goan food is delicious behind the Indian and Portuguese artistry. The popular dishes on festive occasions are 'sorpotel' (a mouth-watering preparation of pork and liver), 'cabidel' and 'buch' (other pungent pork dishes) and last but not least pulau, with succulent sausages, the recipe for which is a jealously guarded secret.
Goan cuisine was influenced mainly by the Portuguese and is predominantly non-vegetarian. Fish curry and rice is a ubiquitous staple in Goa. Common types of dishes you'll find on the menu are xacutti (coconut-based curry), cafreal (marinated and fried/grilled), sorpotel (stew), recheado (stuffed), ambot tik (sour and spicy), and vindaloo (fiery curry marinated with garlic and vinegar or wine). Goan chourico (sausages) and pao (bread) are popular as well.
All this good food is washed down with fiery Feni. Feni is Goa's pungent local brew and the unofficial state drink. It's made from cashew fruit or the sap of coconut palms. Drink it with tonic water or lemonade and a slice of lime.
The Goan is born with music in his blood and at fiestas he gives vent to his pent-up feelings and sentiments in song and dance. To the tinkling guitars, singing violins and soft mandolins playing, voices break out into 'Fados' (Portuguese love songs) and other sentimental songs.
But more popular are the 'Mandos' (Goan Folk songs, sung in the native dialect, Konkani). At the 'Mando' sessions friends, neighbours and relatives sing and clap hands by way of keeping time to the beat of the drums.
Soon you will find both young and old taking to the flooring. Lined up on either side, facing a chosen partner with a coloured silk handkerchief held high above their heads, the couples sway gracefully backwards and forwards.
Soon you will find both young and old taking to the flooring. Lined up on either side, facing a chosen partner with a coloured silk handkerchief held high above their heads, the couples sway gracefully backwards and forwards.
The dance ends with a spirited 'Estriblo' (grand finale), which is taken up enthusiastically and sung in parts by various voices.
Transport in the country is also sometimes difficult.
But the advantage that outweighs these difficulties is that the Goans do not yet think of a stranger as a tourist. They are anxious to befriend you and welcome you and show you round a land they are proud of!
Mel Fernandez travelled to Goa at the invitation of the India Tourism Office when he was a travel editor in Singapore.