Head-hunting is now outlawed in Borneo but it was once the test of manhood. Journey to the longhouses of Malaysian Borneo.
By Mel Fernandez
Photo Credit: The longhouse shown in the above is in Sabah. Courtesy of Sabah Tourism Board.
SARAWAK, Malaysian Borneo – Visitors to Sarawak remember the festive nights spent as guests in longhouses, the exhilarating experience of riding the rapids, and the tradition and culture of the people – in that order.
Sarawak's allure for tourists is without a doubt its unique longhouses. And a longhouse tour – one of the last adventure of its kind in rapidly changing Southeast Asia – is the main attraction in the itinerary of most tour operators in Kuching, the capital city.
Each local tour operator has a favourite locality and longhouse for a visit, and the rates depend on the elaborateness of the arrangements.
For the less hardy, there is the Longhouse Hotel, right where you need it – in Kuching. As you would expect, this up-dated version of the longhouse, with air-conditioning and other modern conveniences, is a caricature of the real thing.
Longhouses in the jungle have no modern conveniences and visitors are told in advance that they must be prepared to rough it out.
A typical tour begins with a journey of about 233 km (145 miles) out of Kuching by coach, to reach the banks of the Skrang River. It takes five hours.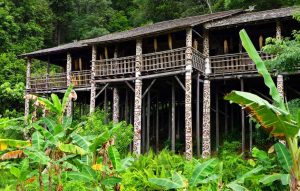 After this point, the journey is by motorised longboats. An hour's traveling brings you within view of the first longhouse – longhouse Mujan – stretching along the river bank.
The 'tual rumah' (headman) and the reception party have been forewarned about our arrival and they come out to greet us. The guide has gifts for the old chief – usually cigarettes or cloth.
The party is then shown into a communal hall where flickering kerosene lamps light up the late evening darkness.
Dinner is longhouse-style. As we sit cross-legged on the bamboo floor, little dishes of chicken, rice and fish are placed before us.
The headman makes sure that the guests don't go thirsty. Young Iban damsels are summoned and they move around serving the local wine – 'tuak'.
The rice wine is strong and it burns as it goes down. But it washes away the aches of the tiring journey up-stream, and it loosens the tongue.
After dinner, everyone settles down to enjoy some dancing. The Iban orchestra, which consists of girls, strikes up a heady rhythm on gongs and bamboo drums.
As the music hots up, a youth steps out from the darkness into the lighted area.
Dressed in elaborate head-dress of tall black-and-white hornbills' feathers, a bright-coloured loincloth, silver belts, and a goatskin poncho over his shoulders, he cuts a striking figure.
The lady guests are impressed and they reach for their cameras, but they are persuaded to wait for the finale.
More dancers appear. They break into the first steps of an Iban dance with a fierce yell, enacting a dramatic version of a fight with swords and wooden shields.
The women do not dance at officials functions. But a later stage, they dress up in ceremonial finery to pose for photographs.
Women go completely naked above their waists in many longhouses. But they enjoy dressing up wearing multi-coloured skirts, and adorning themselves with silver jewelry chains and bracelets.
The evening is needed strange and exciting. And an overnight stay is necessary to enjoy the entertainment some of which goes on until dawn if the guests can take it!
There are good reasons why the Ibans continue to live in longhouses. One reason is purely economical. To build attached houses saves material.
A longhouse looks just like what its name implies – it is a long house. Each longhouse may have five rooms or it may have 100.
Longhouse living is part of a social life for the Ibans. In the longhouse the people are together, this means that they have collective labour and they are also better protected.
Longhouses have always been built on stilts with only one ladder leading up to it. In bygone days, this afforded protection against headhunters on the warpath from a rival longhouse.
Head-hunting is outlawed today, of course. It was once the test of manhood. Iban girls showed little interest in men, who had not taken a head, as young braves tattooed themselves each time they brought in a kill.
Although head-hunting has not been practiced for a long, long time, heads still find a pride of place in many remote longhouses.
Early next morning, the party moves up-river to longhouse Panchor. This trip takes about five hours as the journey is up-stream, where rapids are encountered.
A strange and impressive calm pervades that part of the jungle. And in the cool of the morning, the city-dweller finds the jungle sobering, even a shade intimidating.
The thick vegetation finally gives way to a space of pebbly shore where longhouse Panchor stands. Here, we are again treated to an elaborate welcoming ceremony.
To propitiate the spirits, a live cock is brought to the chief. Its throat is slit and the warm blood is dabbed on our foreheads.
The music and dances go on late into the night and Iban hospitality here as in all longhouses can be summed up in one word-overwhelming.
Soon it is time to go, and we are all eager to start on the journey down-stream.
There is a stretch along the way where you ride the rapids. The longboats travel at terrific speeds, but the skilled boatmen will get you through safely.
It's a great relief to know that in a few hours you will be back to the comforts of a hotel room. There will be time enough to relax in Kuching, to do some shopping and sightseeing before catching the plane home.
The longhouse safari is by far the most popular tour in Sarawak today – and it is an experience you will not easily forget.
You can go on a longhouse tour in either Sabah, Sarawark or Brunei.
Malaysian Airlines flies to Kuching and Kota Kinabalu (Sabah) from Kuala Lumpur and Silk Air flies to these cities from Singapore.
Singapore Airlines flies to Bandar Seri Begawan (Brunei) from Singapore.