By Mel Fernandez
BANDAR SERI BEGAWAN – You get that million-dollar feeling the moment you arrive in Bandar Seri Begawan (Bandar for short) – Brunei's capital city. I would best describe my experience as being akin to entering Aladdin's cave. This tiny nation, awash with its oil wealth, displays breathtaking opulence at every turn. It appears that no expense has been spared in constructing the Sultan's grandiose palaces, its incredible mosques, the glamourous buildings, the flashy tourist attractions and also for tourists, an extravagant 7-star hotel that should be on your travel bucket list.
This oil-rich sultanate, sandwiched between the East Malaysia states of Sabah and Sarawak, is accessible by either air or sea. There are no direct flights to this destination from New Zealand, so you need to fly on a couple of carriers and put up with some stops to get there. Some of the carriers flying directly to the state include Malaysian Airlines, Singapore Airlines and Philippine Airlines.
Once neglected by the travel agents, Brunei gained ground as a tourist destination once the state-owned Royal Brunei Airlines (RBA) started operations in 1974. Over the years, flight capacity to and hotel accommodation in this destination were boosted as tourism was actively promoted by Brunei Tourism and RBA.
Today Brunei is an attractive stopover and tourists will find their visit to this land of plenty richly rewarding. There is so much to take in during your visit – the natural bounty, the modern delights, the history, the culture and of course' the cuisine. It is also good to know that 90% of the population is fully vaxxed.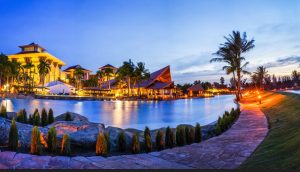 There is a wide range of accommodation available in Bandar, but I wouldn't go past the 7-star Empire Hotel (pictured left) in Jerudong which overlooks the glittering South China Sea. One of the hotel executives fondly describes this tropical retreat as a 'little palace'. How true. You will be mesmerized by its grandeur – the juxtaposition of old-world charm and elegance with modern gold fixtures everywhere, spacious and exquisitely designed guest rooms, private beaches, a championship golf course, five pools, six restaurants and even a cinema. I was not surprised to hear that it took 6 years to build this tropical retreat.
Here's a travel tip. Note that entertainment, on the scale that tourists are accustomed to in most Asian tourist hot spots, is practically non-existent here. In this strictly Islamic state there are no nightclubs, the sale of alcohol is not encouraged and there is a clamp-down on gambling and prostitution. Some would call it a ghost town after dark.
So, what is there to do once you get there? Lots of exciting things, actually. My first stop was the very source of Brunei's wealth – the oil towns of Seria and Kuala Belait. They almost resemble Texan oil towns with their huge and impressive oil and gas-work complexes. The trunk road from Bandar to these towns is 78 km long and is Brunei's only highway.
Nearly everyone of Brunei's population of 500,000 is either employed by Brunei Shell or associated with the oil business in some way. For the moment, revenue from the gushing crude oil and gas enables the people there to live in relative prosperity. The richest little kingdom in the region, it enjoys one of the highest living standards in Asia and is gearing up to achieve a per capita income within the top 10 countries in the world. It is good to know that there is no income tax in Brunei and education and medical care are free.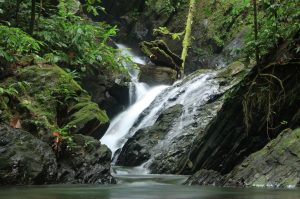 CITY TOUR:
Bandar still retains its small-town charm as towering skyscrapers have yet to take over the town. I drove around the Istana Nurul Iman (the royal palace), the magnificent Sultan Omar Ali Saifuddien Mosque; which is among the largest mosques in Southeast Asia and the even grander Kairong Mosque, the largest in Brunei.
A visit to one of these grandiose mosques is eye-opener with the marble minarets, gold domes, the mixture of Malay and Mughal elements and Saudi Arabian carpets covering the floors as British chandeliers hang from the ceilings.
Two other city attractions worth visiting are the Royal Regalia Museum and the 1 Billion Dollar Jerudong Theme Park.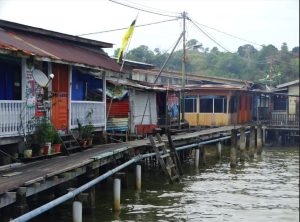 TOUR 1:
A not-to-be-missed slice of life attraction is Kampong Ayer (nicknamed the Venice of the East) – the largest water village in the world. This is where 50,000 Bruneians, or a quarter of the population of the city, live in houses perched on stilts. It is the home of fishermen, silver craftsmen and locals who find living on the river much cooler.
TOUR 2:
The rainforest is just 3-5 km from the city. For the adventurous there are the nature reserves, caves and a waterfall to explore. If time permits travel by long boat to Temburong National Park, 45 minutes away, for a close-up view of the jungle. You might even glimpse some of the abundant native species that have survived here.
If you are in a hurry then sign up for the Mangrove and River Safari – this is an exciting speed-boat trip to the 'Everglades country' up the Brunei River.
TOUR 3:
The immensity of the Borneo jungle becomes apparent when you visit the Iban longhouse at Temburong. The Ibans are very hospitable people, and they go to great lengths to make you feel at home. Their community life, and primitive hunting are truly fascinating.
If you have the time, travel further to visit the Limbang longhouses inside Sarawak. Travel documents are necessary for this journey.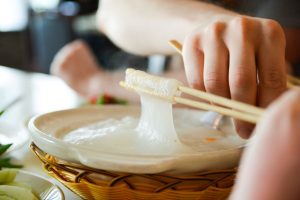 FOOD TOUR:
It is no surprise that there is a thriving restaurant scene in town. Highly recommended eateries are the Aminah Arif Restaurant and the Rizquan Café, which offer the superb local favourite 'nasi katok' – rice with chicken or beef and anchovies and a spicy sauce wrapped in banana leaves. Another version of this rice dish is the 'Loklo Nasi Campur' at Westpark Corner.
Other must try dishes are 'soto' liver and intestine noodle soup, grilled clams, satay, pulut panga (sticky rice) and do try the national dish of Brunei – ambuyat – sago palm jelly.
Preferring the street food experience, I tried a variety of popular fare at the Pasir Gadong Night Market.
To wrap up I'd say that Brunei is a great travel experience because it is literally out of this world. Comparing it with my sojourns around bustling South East Asia, I found that the main point difference in the quaint sultanate is that it is not swamped by tourists and it offers a relaxing, slower pace of life. A great place to recharge.
Selamat Datang! (welcome).
Mel Fernandez travelled to Brunei from Singapore courtesy of Brunei Airlines.